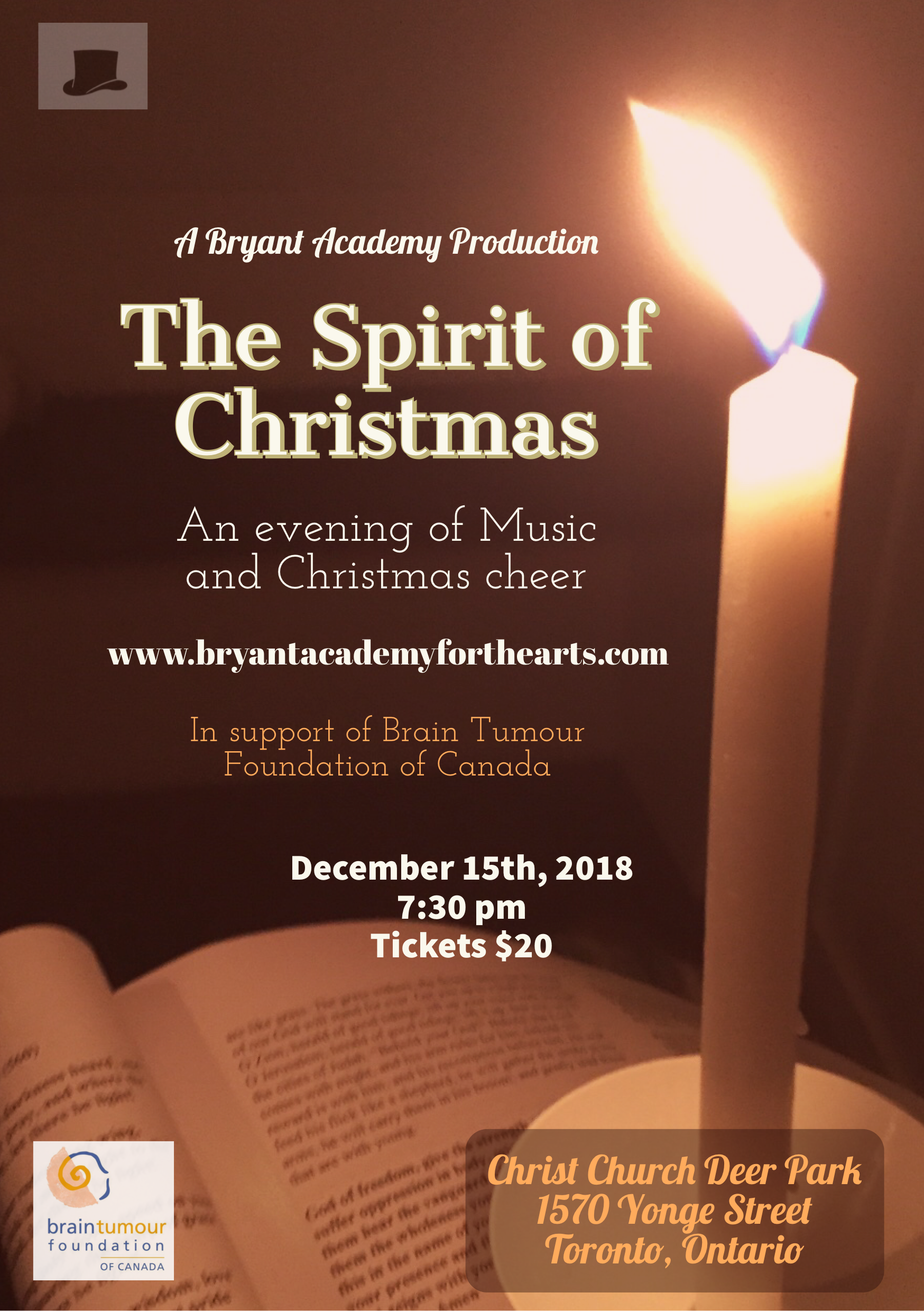 December 15th, 2018
7:30pm
Christ Church Deer Park
1570 Yonge Street
Toronto, Ontario
Together with the Brain Tumour Foundation of Canada, we are excited to bring the Spirit of Christmas to Toronto for our first annual holiday concert.
Enjoy professional musical theatre artists, including our faculty, perform a Christmas-themed program and sing along to your favourite carol, in addition to an interpretive reading of The Night Before Christmas.
Free admission for Children under 12
ABOUT THE FOUNDATION
Brain Tumour Foundation of Canada was established in London, Ontario in 1982 after Steve Northey lost his eight-year-old daughter to a brain tumour. Together with Dr. Rolando Del Maestro, a neurosurgeon and Pamela Del Maestro, a neuroscience nurse, they worked to form an organization to improve the quality of life for those affected by a brain tumour.
Brain Tumour Foundation of Canada has become Canada's leader in providing brain tumour information and support. This leadership includes active membership with the International Brain Tumour Alliance (IBTA).
OUR CONNECTION
In 2002, Heather Ballard (Bryant Academy owner's sister), was diagnosed with an arachnoid cyst in her left temporal lobe at the age of 16. She was lucky enough to be rushed to the Montreal Neurological Institute to have surgery performed by Dr. Rolando Del Maestro. Heather recently found out her tumour has grown and she is pending surgery.
CAST
Samantha Ballard Claire MacMaster Christopher Ning Vincent Perri
Mark Umphrey Samantha Pipper Micheal Yaneff Mike Buchanan
Avra Fainer A.J. Stewart
The Band
Steve Lavoie Alan Kulka